Jennifer Weiss-Wolf, feminist author and menstrual activist, wrote in her 2017 book, "Periods Gone Public, In order to have a fully equitable and participatory society, we must have laws and policies that ensure menstrual products are safe and affordable and available for those who need them." Weiss-Wolf is a leader advocating for menstrual equality, working to attack the stigma surrounding periods and enact policy change.
Inequality issues in this country are often associated with gender, race, wage gaps, and education. Still, there is another inequality that's gaining attention thanks to advocates like Weiss-Wolf and other activists and nonprofit organizations.
Menstrual inequality is an emerging political and social topic. Although the momentum is slow, people are taking note and recognizing that everyone has the right to feel clean, comfortable, and dignified during this natural, normal biological process.
Describing Disparity
Menstrual disparity, or menstrual inequality, refers to unequal access to period products and a lack of education on reproductive care. Caused by systemic disparities in access to menstrual health, menstrual education, menstrual products, and appropriate spaces to manage a period in a safe and healthy way, menstrual disparity is an issue faced by a significant portion of our population.
It's a topic that historically has been widely neglected in social, economic, and political sectors, and it has even proven difficult to raise awareness and gain support from healthcare professionals.
There's an overall dismissiveness and reluctance to talk about periods across all of society regardless of race, class, or identity.
Issues with Inequality
Gender inequality, social constructs, and poverty are all known causes of menstrual disparity. Menstrual inequities are also most common, where there are other disparities like access to clean water, food insecurity, housing insecurity, and poor education.
Marginalized communities suffer the most significant impact of these disparities.
History of Menstrual Stigma and Disparity
Reluctance to talk about periods and menstrual or reproductive issues due to awkwardness and embarrassment is common in many cultures and social circles. In many countries worldwide, periods are stigmatized to the extent that menstruation means being banished from others for the duration of their period.
Although not so extreme, the United States is no stranger to menstrual stigma. Polls indicate that over half of women have experienced period shaming. More than half of men feel it is inappropriate for a woman to mention menstruation in the workplace, and over 70% of women have reported hiding feminine products on the way to the restroom.
The stigma surrounding periods is partially responsible for the lack of conversation and genuine efforts to alleviate period inequality. Grave disparities, though, go much deeper than the fear of an awkward conversation. They are rooted in systemic cultural and societal issues.
These profound disparities result in a disproportionate number of people of color feeling the effects of menstrual health disparity.
Financial issues
Consider these facts about poverty in the U.S., according to September 2021 census information:
Women make up 56% of people living in poverty
Of those living in poverty, 19.5% are black
16.1% of those living in poverty are under the age of 18
Because poverty is a driving factor causing menstrual disparity, these statistics reveal black women and young girls are especially vulnerable.
For example:
Two-thirds of low-income menstruating women can't afford to purchase tampons or pads
Twenty percent of black people experience period poverty
Mistrust of The Medical System
Many black women and people of color are reluctant to seek care due to medical mistrust. This stems from a long history of mistreatment and is combined with continued current experiences with discrimination. A 2020 poll revealed that 7 out of 10 black Americans say the healthcare system mistreats them, and 55% say they distrust it.
Social Determinants of Health
Social determinants of health are the conditions in the environments where people are born. These determinants continue to affect them as they go through life, attend school, gain employment, and age. These factors affect health and quality of life outcomes. Social determinants of health prevent many people from racial and ethnic minority groups from having fair opportunities for economic, physical, and emotional health.
Effects of Those Disparities
Lack of proper period care, menstrual education, and access to feminine health care lead to adverse menstrual and reproductive health outcomes.
Ultimately, it is these adverse health outcomes that are the most detrimental and most necessary to eliminate.
Menstrual and Reproductive Health in the Black Community
A study conducted in 2012 by the Journal of Women's Health concluded that black women are three times more likely than white women to experience fibroid cysts. Nearly 80% of black women will experience them in their lifetime. Another study found endometriosis is one of black women's leading causes of hysterectomy.
The physiological factors that cause this increase in feminine health issues are not entirely understood, but there is evidence that the following factors may be linked:
Low levels of vitamin D
Experiences of racial discrimination
Childhood sexual abuse
Higher rates of obesity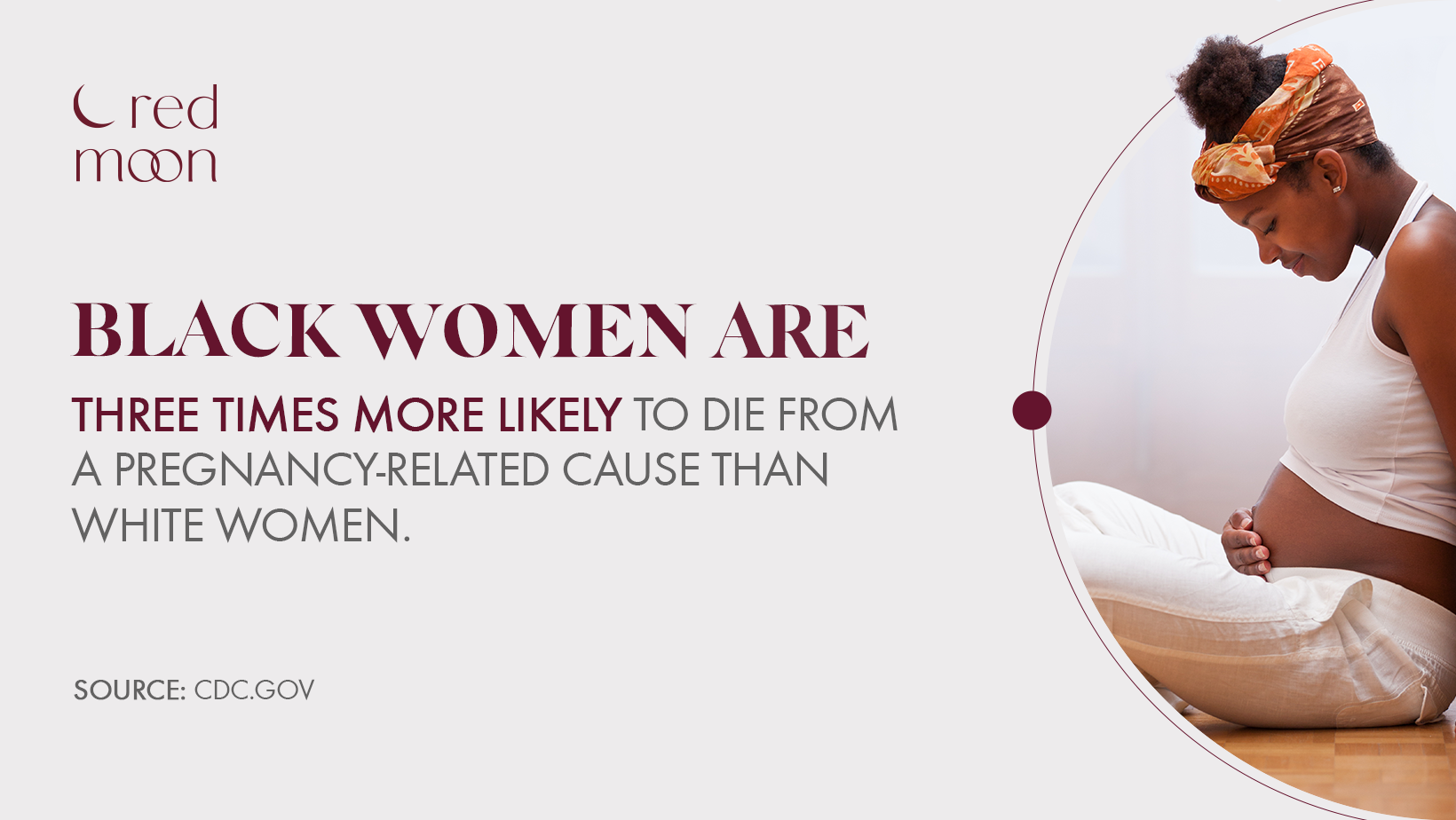 While most pregnancy-related deaths are preventable, black women are three times more likely to die from a pregnancy-related cause than white women.
A contributing factor to adverse health outcomes from these issues, though, is that when faced with a menstrual or reproductive question or problem, black women are left with the uncomfortable prospect of discussing a sensitive subject with someone that's not relatable to them. The most common ethnicity of medical doctors in the U.S. is white, and nearly half are male. It is estimated that black females make up only three percent of the doctors in the country.
How Change Can Happen
What do we have to do as a society to eliminate menstrual disparity? The conversation is just beginning. Legislators, activist groups, nonprofits, and grassroots organizations unite to make change for menstruators.
Here are some of their major points of focus and their beliefs:
Inclusive environments
People need to feel confident about their periods and comfortable accessing the proper products to keep them healthy and safe in all spaces. Schools and workplaces should be especially mindful of providing a comfortable environment for all menstruators to address their needs.
Education
Being well-informed about personal health issues is essential in getting proper care. Young girls and their families need to understand what a normal period is like, how their bodies can be affected by it, and signs of feminine care concerns. Mentorships, education programs, distribution of first period kits, and outreach to mothers and trusted adults must be goals.
Advocacy
There has to be a collective effort to reach policymakers and legislative bodies in states to advance menstrual equity. The ACLU has assembled a toolkit containing resources and documents to aid advocacy campaigns. It provides:

Legislative language examples.
Talking points.
Responses to arguments.
Tips for managing social media.
A wealth of other helpful documents and information.
Empowerment

Preach Period positivity. Confidence and a feeling of control are vital for women and girls to feel comfortable and safe during their menstrual cycle. Community leaders, healthcare workers, teachers, parents, and wider family members are integral in influencing those feelings.
Donate to Organizations
There are movements to help balance menstrual inequities started by black-led foundations and organizations. They believe in bringing menstrual health conversations to the forefront and providing immediate relief to those needing menstrual health products and guidance.
#HappyPeriod is an organization dedicated to menstrual health education, advocacy, and access. Your donations are used to provide products to women and girls, especially those dealing with poverty, low income, or homelessness.
Sending Her Essentials advocates for equal access to affordable menstrual health products. They focus on alleviating period-related issues that cause people to miss work or school, hoping to build better opportunities for them to succeed in business and academics. Donations go directly to their advocacy projects and initiatives.
Flo Code believes in changing the conversation about periods. They have donated well over half a million menstrual hygiene products to women in need. Donations buy period products, programs to educate about menstrual health, and efforts to waive the sales tax on menstrual products.
Other ways you can do your part to eliminate menstrual disparity:
Get involved in local advocacy projects and share those opportunities on social media
Make your business a period-friendly environment
Encourage youth in your life to be confident and open about menstruation
Teach young men and boys about the normalcy of menstruation
Red Moon Recognizes the Importance of Equity
We believe that period products should be available and affordable to all who need them. Red Moon donates a portion of our profits to charities that provide essential period products to those in need.
Join us in our efforts to spread period positivity to others and embrace your own cycle as an empowering part of what it means to be a woman.
___________
Cherie Marquez is the co-founder of Red Moon, where she brings her talents as an entrepreneur, storyteller, and holistic health enthusiast. Cherie is also the founder of Take One Daily Media, a marketing, advertising, and design agency dedicated to using media in creative and progressive ways. For twenty years, Cherie has used marketing and design strategy to impact social change. You can connect with her on Linkedin.
Resources:
Temple University
BioMed Central
Parents
The Homegirl Project
BET
National Library of Medicine
National Library of Medicine
Zippia
Fortune
CDC
The Balance
NY Post
Common Wealth Fund
Black Women's Health Imperative