Summer is here! And in honor of spending more time outdoors this summer, let's talk about going green! It's a great time to consider your impact on the environment. Are you aware of the benefits of green products? How do you feel about the ingredients in the products you currently use? Do you think you could spot a product falsely touting itself as green?
What Does Green Mean?
First, consider what it means to manufacture a green product. In general, green products are considered to be less harmful to the environment and human health than an alternative product.
Often, a green product will focus on one aspect of environmental sustainability. For example, reducing chemical use, protecting forests, and animal welfare are common core principles for a green company. Genuine green companies are concerned with environmental, social, and economical ways to create a more stable, sustainable future.
This does differ from organic products. For a product to be organic, any aspect of its production from farming, manufacturing raw materials, assembly, packaging, and delivery must adhere to strict industry standards. These standards are monitored, and products are evaluated and certified as organic.
No product can be 100% green because all products have some impact on the environment, but a product can be 100% organic.
Overall, green products are:
Biodegradable
Energy efficient
Contain non-toxic byproducts
Do not harm the ozone
Contain mostly recycled materials
Green products are certified by a third-party organization that ensures companies follow guidelines and meet criteria. Seals or labels are awarded to these companies that meet the green standards set by these organizations. You'll see more on ecolabels later!
Benefits of Buying Green
Since products can have a widespread impact on human health and the environment, there are some pretty significant benefits of using eco-friendly products.
Buying green means:
Less exposure to toxic materials
Reducing air pollution
Reducing water pollution
Impacting climate change
Conserving natural resources
Protecting ecosystems
Manufacturers have come so far in our production of clean, eco-friendly products. There are options for every facet of your life, including period care. Red Moon is part of the green movement. How does Red Moon fit? We have an unwavering commitment to ensuring our products are all-natural and organic.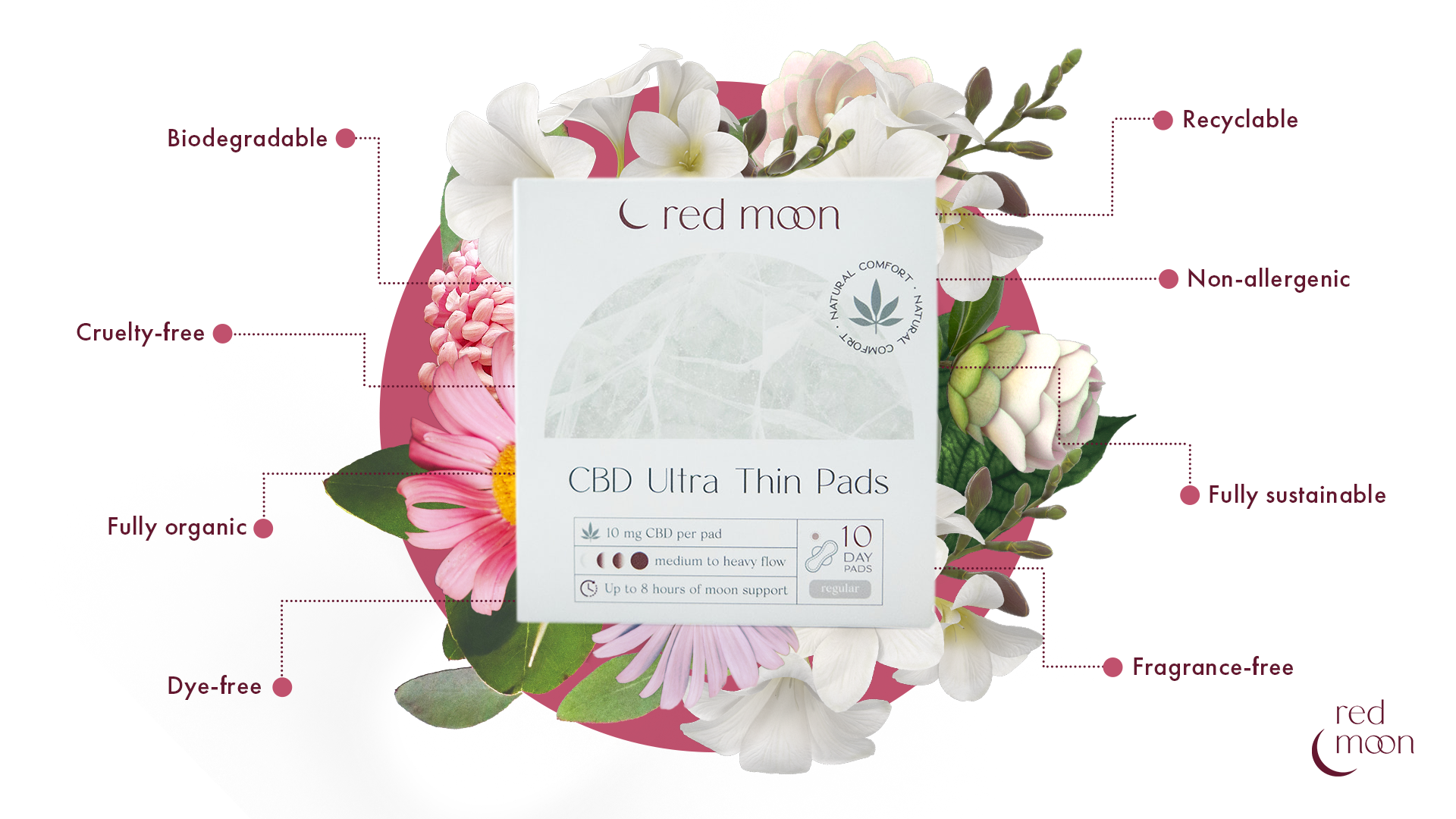 You can count on Red Moon products to be:
Biodegradable
Recyclable
Cruelty-free
Non-allergenic
Fully organic
Fully sustainable
Dye-free
Fragrance-free
An added benefit to a natural, organic routine is the inclusion of CBD. CBD is a natural substance sourced from the hemp plant. When these plants are grown in alignment with industry standards for organic products, the CBD oil extracted from the plant is considered organic.
These are all characteristics of an entirely organic and green product, but what about those that aren't? There's an element of trust involved in purchasing eco-friendly products. A new term has emerged that gives a name to companies that are not forthright about their organic claims.
Misleading Labels
Some companies are guilty of what is known as "greenwashing". Just like whitewashing is defined as concealing or hiding a negative behavior to look better, greenwashing is trying to appear better, or in this case, greener, than you really are.
Because of the increasing popularity and appeal of green products, many companies are using terms and descriptions that appeal to consumers. Unfortunately, these terms and descriptions do not often apply to the actual product. Marketing a product as green and actually practicing those and abiding by green production and ingredient standards are two different things.
If your desire is to purchase green products for the sake of your health and your environment, then you want to ensure those products live up to their name. Here are three tips for spotting green versus greenwashing.
Tips:
Don't fall for clever packaging. What colors or pictures appear on the outside do not indicate that what's inside is better for the environment.
Look for specific sustainability statistics, not just vague percentages.
Choose products that have been certified by third-party entities. These products will have what is known as an ecolabel. That means the product meets specific environmental criteria.
Get Ready to Go Green
There are all kinds of ways you can live a greener lifestyle, from the products you buy to the habits you engage in. Take a look at this list of fun ways to go green. Pick an activity you'll commit to.
Visit a Farmer's Market
Buying locally means cutting down on shipping, a major plus for the environment. You'll be able to shop for fruits and vegetables that are in season while supporting local farmers which are environmentally and economically sustainable practices.
Get Your Thrift On
Buying gently used items cuts down on production and manufacturing. Buying second-hand clothing is especially helpful because it helps keep clothes out of landfills and cuts down on pollution and water consumption perpetuated by the clothing manufacturing process.
Creative Reuse
Upcycle! There are a ton of creative and fun ways to reuse items in your home for new purposes. You'd be surprised how much you can save while you're helping the environment. There are objects in your home right now that could be transformed instead of buying something new.
Gardening is Green
Plant a small backyard or container garden. Raising fruits and vegetables can be very satisfying, not to mention healthy and delicious! It's possible to grow a wide variety of vegetables in small spaces. Patios, balconies, or even your front steps can provide room to grow.
Eco-Walks
If you walk or jog for exercise, take a waste bag with you and pick up litter along the way. A fun twist, especially with kids, is to make it a plastic pollution scavenger hunt. Make a list of plastic debris items to find and whoever picks up the most from the list is the winner.
Screen-Free
Electronics are a part of our life. For some of us, there's no escaping their use for our jobs and communication, but taking a break can be healthy and environmentally conscious. A great amount of energy goes into powering all your devices, so any time you can limit use, it helps. Try picking a day for a total digital shutdown!
There are other simple strategies you can employ around your home and habits you can engage in daily to help minimize your impact on the planet.
Some simple ideas are:
Switch to energy-efficient light bulbs
Use natural light as much as possible
Wash laundry on cold setting
Walk or bike for short errands
Pay your bills online
Fix leaky faucets
Collect rainwater for plants
Donate your old clothes to thrift stores
Use cloth shopping bags
Create a compost bin
Plant bee-friendly flowers
Remember, it's all about the impact on the environment. Being eco-conscious doesn't mean a radical change to your daily life; it just means being knowledgeable of green options and making an effort to carry out green habits as much as possible.
Red Moon Believes in Being Green
As we spend more time outdoors this summer, reflect on your environmental impact. Consider your current habits and what you could add or adjust to help reduce harm to our planet and risks to your health.
When shopping, keep green labels in mind and remember Red Moon products for your green period routine. Consider celebrating the day with a fun green activity, and maybe you'll find that you want to make it a new habit.
I am so proud to be a part of a company that values sustainability and offers an entirely organic, clean, and eco-friendly product. There is an overwhelming sense of pride and peace of mind in knowing that I am a part of a product that is helping to support the health and comfort of so many.
Join us in spreading green!
___________
Cherie Marquez is the co-founder of Red Moon, where she brings her talents as an entrepreneur, storyteller, and holistic health enthusiast. Cherie is also the founder of Take One Daily Media, a marketing, advertising, and design agency dedicated to using media in creative and progressive ways. For twenty years, Cherie has used marketing and design strategy to impact social change. You can connect with her on Linkedin.
Resources:
Green vs. Greenwashing Blog
EPA Green Labels
Food Industry Executive- How to check your labels
Positively Sustainable
EPA Why Buy Green Products