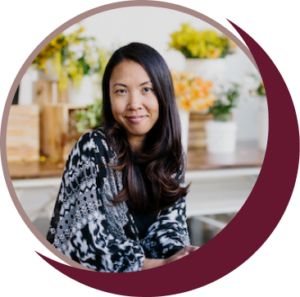 Cherie Marquez, Co-Founder, Red Moon
My moon story is relatively uncomplicated when it comes to menstruation. I am grateful to experience painless periods and enjoy overall reproductive health. My journey to Red Moon rests more in embracing a holistic lifestyle and in my belief in CBD as a calming, therapeutic agent.
The path that brought me to CBD wasn't through period pain but headache pain, specifically migraines. I have had a long history of migraines since a very young age. As a kid, I would take over-the-counter medicines, and those would sometimes work in the short term, but they weren't capable of soothing all of my symptoms. As the years went on, I knew regular use of those types of pain relievers would be harmful to my body. 
Later, to treat the migraines, I began using prescription pills and ended up having a wealth of bad experiences. That type of medication was not for me. Certain substances made me feel like I did not have control over my body, and it was an uneasy feeling that I longed to be rid of. Working on a computer, as I still do daily, would exacerbate my pain when experiencing a headache. It became clear that I had to find another method to ease and calm my head. 
I have really always been drawn to the homeopathic way of life. As the years went on, I started learning more about homeopathy and applying it to my health and wellness routine. I became interested in what I was hearing about breakthroughs in the use of hemp and cannabis as homeopathic remedies. It seemed as though it was worth trying as a tactic to soothe my migraines.
I was continually noticing studies and research that linked CBD to the possibility of easing migraine symptoms. Because of the way the substance reacts with pain receptors that are part of the endocannabinoid system, it showed potential in providing relief and lowering inflammation.
Finding the right product was important to me, and I set to work researching brands that would fit me and my body. There are so many companies on the market, and unfortunately, there is a fair share of companies that make false claims or do not have a contaminant-free product. 
I learned that it is crucial to look at the lab analysis for the batch of the product. An accredited lab will test the CBD to analyze several critical components. Levels of each component are recorded and become part of the document. The certificate of analysis is awarded to allow transparency and safety to consumers. It was apparent any company that didn't display their batch results was one that I could not trust. 
Eventually, I came to find wonderful companies that provided the products I was looking for and the peace of mind that I appreciated. Not only that, but I was getting results. CBD was working for my migraines. It allowed me to be proactive about my migraine pain. I knew the feelings of the onset of symptoms and could treat my headache before the pain intensified.
By taking CBD for my migraines, I also realized its other benefits. I noticed that my anxiety was relieved, and I felt balanced. I would experience a soothing sense of calm when I used it, much different from the ill-at-ease feeling I had so disliked when taking prescription pain relievers. 
It was such a weight lifted from me to know that I had a reliable, safe, and homeopathic product that was helping. I knew that I would never have to return to prescription or over-the-counter pain relievers and could uphold my holistic values.
It became such a personal belief that CBD was beneficial that I began to promote it as a professional. I was able to work on marketing for select cannabis brands, and I relished the opportunity to share and promote what I believed to be a worthy product. My personal experience gave me interest and passion that was easily reflected in marketing campaigns.
I used all forms of CBD, from topicals to ingestibles, and found them beneficial in various aspects of my wellness. Then, I realized its potential in feminine products. 
I have always been an advocate for organic products, and I have always applied that preference to the feminine products I purchase. I'd never been a pad wearer and always used what I considered the greater comfort of tampons. It was always organic tampons for me. That changed when we created Red Moon. 
This product was not like the other pads I had tried in the past. I no longer felt they were noticeable or uncomfortable, and I could wear them regularly with no issues. The product was also supplying me with the calming effects of CBD. 
Because I realized the health benefits in so many ways, I was elated at the chance to be a part of what Red Moon had to offer. The use of CBD to promote calm periods and reproductive health combined with a natural, organic product made so much sense to me. It was exciting to think of how this product could help ease menstruation issues that so many experience. 
Menstruation is a time when soothing strategies are welcomed. I believe in the power of CBD to ease cramping and feel that it can help create a calm period and Red Moon products maximize its potential.
For me, CBD is a fundamental part of living well, and I believe it has a lasting holistic impact. It connects my life's physical, mental, emotional, and spiritual aspects while bringing true balance. I am happy to say that my story is one of the countless stories of individuals who have reaped the benefits of CBD.
I am thankful that, although I had to experience pain to get to this point, I am part of a product I believe in. It brings me joy to know that I can promote Red Moon, knowing that it will make a difference in the holistic wellness of many individuals.
_________________
Cherie Marquez is the co-founder of Red Moon, where she brings her talents as an entrepreneur, storyteller, and holistic health enthusiast. Cherie is also the founder of Take One Daily Media, a marketing, advertising, and design agency dedicated to using media in creative and progressive ways. For twenty years, Cherie has used marketing and design strategy to impact social change. You can connect with her on Linkedin.