Tracking Your Period in a Post-Roe World
It started even before the overturn of Roe vs. Wade. Women began getting rid of their period tracker apps. In May, when the draft opinion written by Justice Alito was leaked, many decided to ditch their online trackers as a precaution. The practice of avoiding apps grew once the federal protection of abortion rights was removed.
Up until that point, approximately one in five women aged 18-49 in the United States were actively using health apps. Some estimates project that health-related apps will become a $50 billion market by 2025.
Tracking your period has become big business. It makes sense. Just like any product or service, period tracking meets a need. It satisfies the desire of women to know what's going on with their bodies and when; however, do we really want everyone to know? 
That's the issue. Who's got the info. and what are they doing with it? You might be surprised to find that it's not just because of Roe that we should be worried.
The perks of tracking your period validate doing it but be sure to choose wisely when considering any app.
Benefits of Tracking Your Period
Tracking your menstrual cycle makes sense for all sorts of reasons. Depending on your needs, desires, lifestyle, and health, you may find that tracking your period provides much-needed menstrual information.
It seems the most common reason women track their period is reproduction. Knowing when ovulation is likely to occur means planning or avoiding a pregnancy. If you're desirous of starting or growing a family, period tracking is a move toward your best chances of getting pregnant. 
Likewise, women who prefer to avoid pregnancy can stay informed of their cycle so that it meets their needs. Avoiding intercourse or taking extra precautions during ovulation can mean steering clear of an unwanted pregnancy. The emotional, economic, and social implications here are vast.
Although tracking plays a major role in family planning, that's certainly not the only benefit. Health reasons for observing your cycle abound.
Menstrual health means overall health. Knowing your body, its rhythms, and how it reacts is an important factor in staying healthy and seeking appropriate care. An irregular period can be the warning sign of some significant feminine health issues. Thyroid problems, birth control issues, PCOS, menopause, and stress are all common factors that can affect your period. The best way to be informed about any of these conditions early is to know the timing of your cycle.
Emotionally, your period can bring on waves of feelings and sensations. Different phases of your cycle produce different hormones. The phases can also elevate or lower certain hormones. These hormones make your mood. It helps to know why you're feeling certain ways and even be able to predict when. 
Finally, there's a social side to period tracking. Taking that dream vacation? Planning an amazing event? Working on wedding plans? Sometimes situations are just more manageable without menstruation. Period tracking allows you to plan your social calendar to be in sync with your cycle.
Period Tracker Paranoia
Unfortunately, for all the good they do, there is a dark side that's developed in the period tracking app space, and it became a little scarier with the Roe overturn. So, what were women fearing about those apps once they heard the decision?
Essentially, as with virtually all apps, cycle tracking apps collect, retain, and in some cases, share (we'll get into that next) your data. Yes, the company that developed the app can discover when you're menstruating, when you're ovulating, if you've gotten pregnant, and basically any other health-related factors that you've allowed the app to track.
Legally that information can be subpoenaed and used in a court of law. So, say, for example, that someone is in a state where abortion is now illegal, that app could be used as evidence to prosecute them for getting an illegal abortion.
So there is some validity to the idea that the overturn of Roe does put women at risk of criminal prosecution via evidence on their apps. The data collected and stored on a period tracking app absolutely can be used to penalize someone who is seeking or has gotten an abortion in a state that has now been affected by the lack of federal protection.
You might be thinking, "I'm in a state where abortion is legal, so it's fine." Or, "I wouldn't get an illegal abortion, so I'm not concerned about being prosecuted." There's more.
Did you know any app on your device can be accessed by law enforcement via search warrant or even subpoena? All of your favorite apps, Instagram, Facebook, Google, Amazon, Uber, Lyft, Spotify, Pinterest, et cetera, et cetera, contain privacy policies that grant varying degrees of access to your information should there be a criminal investigation, but it doesn't always have to be about a crime. 
Your information is coveted and can be used in a myriad of ways.
Cycle Tracking and Data Sharing
It's not just the government or law enforcement who could potentially use your period data for their purposes.
In reality, we should all have been more cautious about using period tracker apps well before any Supreme Court intervention into our reproductive rights. It may have shed light on the situation and prompted people to delete, but truthfully, entities gaining access to intimate reproductive information was already happening.
The most infamous case in period app tracking data sharing involved the tracking app Flo. The company behind Flo, Flo Health Inc., passed on the private health details of its users for marketing and analytics. Google and Facebook were two technology companies reported to have received the information. More than 19 million women have downloaded the Flo app, and it is believed that millions of women's personal information was released.
The Federal Trade Commission found that Flo had allowed third-party companies to use personal information for activities that included advertising.
In recent years other popular apps have also been pegged for sharing intimate information like symptoms, contraceptive use, medications, and fertility conditions to third-party tech companies like Facebook.
What's also troublesome is that any app that only makes general health and wellness claims generally does not have to comply with the federal health privacy law known as Health Insurance Portability and Accountability Act, or HIPPA. What this means is that the personal health information you enter into consumer apps is not protected by any patient privacy standards.
Being prosecuted for an illegal abortion is part of how your data on a period tracking app could be used, but corporations, social networking sites, and marketing companies can also gain access to it. If you're not concerned about prosecution, maybe consider your right to privacy.
Red Moon is Ready to Help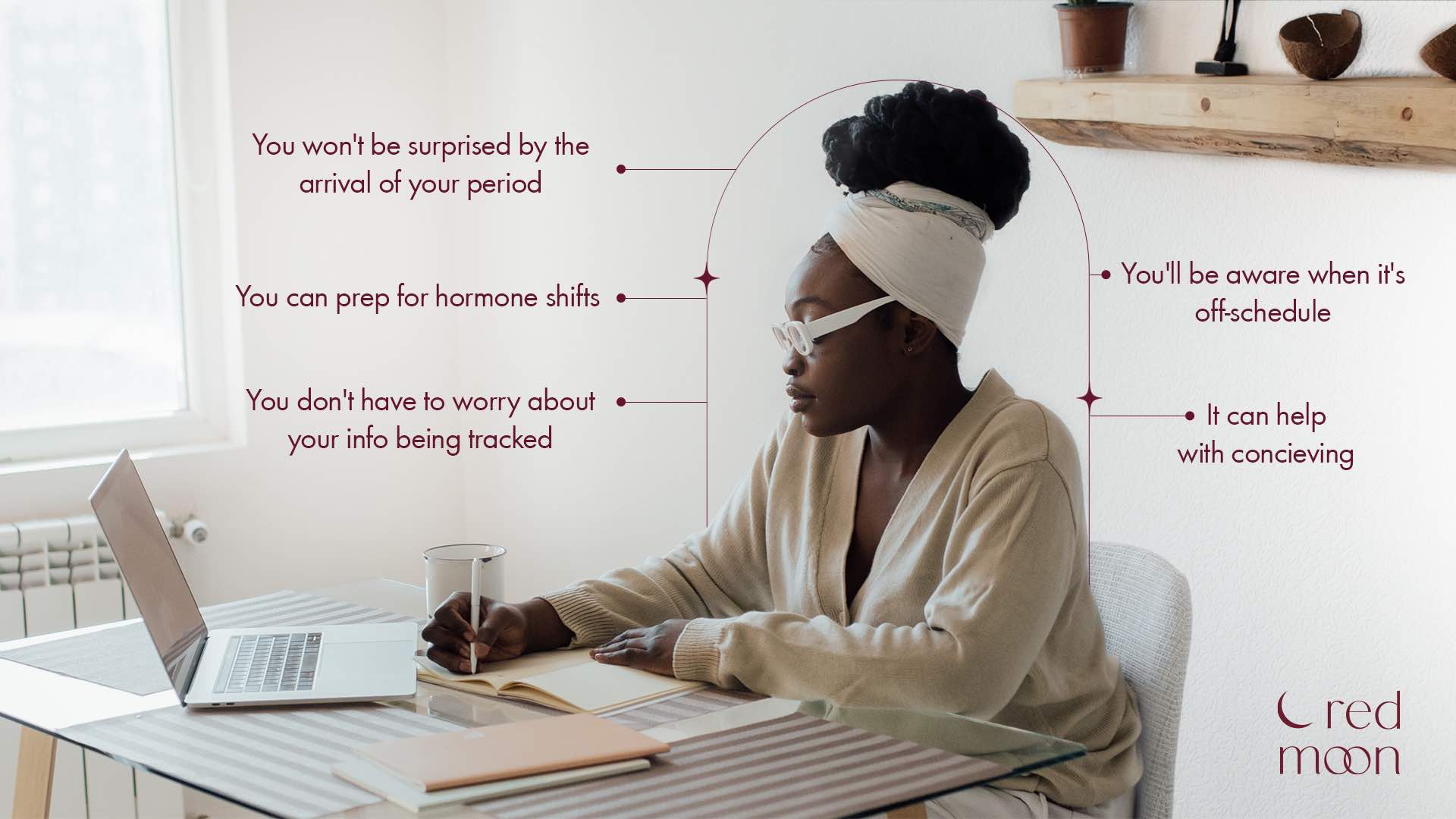 Because we believe that period care is health care and that tracking your period is a first step in a positive period care routine, we've developed a downloadable period tracker. There's no data stored or shared; it's an untrackable tracker! 
It may feel a little old school or low-tech, but you can gain peace of mind knowing that your period information will stay private. It's user-friendly, helpful, and safe.
Tracking Your Period: Proceed With Caution
With any app that creates a digital trail, you're susceptible to sensitive information being stored by a company. If you choose to continue using your favorite health tracking apps, be aware of their privacy policy.
Let the overturn of Roe not only caution you against tracking your period but let it also remind you that any information you enter into an app can be used by third parties or accessed by law enforcement.
Here are some general common sense tips for keeping data mining at bay:
Turn off your location settings

Turn on limited ad tracking

Use a private browser on your phone

Control permissions on your apps

Read privacy policies

Use a search engine like DuckDuckGo.com that doesn't collect data
We love our apps and what they add to our lives, but we've got to be proactive about protecting our sensitive information.
Make Red Moon Your Ally for All Your Feminine Needs
We're passionate about your right to privacy and to make your own choices regarding reproduction. It's our goal to support and empower you to take control of your body. We're committed to helping you have a safe, comfortable, and private period.
Let us be your partner in period tracking and in gaining helpful information about period care and other women's health issues. Consider Red Moon your go-to company for high-quality period products made with you in mind. 
Whether you need a safe way to track your period, suggestions on holistic health and wellness, a plan for period care, or you want to shop the best natural period product on the market, Red Moon is here for you! 

___________

Cherie Marquez is the co-founder of Red Moon, where she brings her talents as an entrepreneur, storyteller, and holistic health enthusiast. Cherie is also the founder of Take One Daily Media, a marketing, advertising, and design agency dedicated to using media in creative and progressive ways. For twenty years, Cherie has used marketing and design strategy to impact social change. You can connect with her on Linkedin.

Resources:

NPR
The Guardian
The New York Times