Add Some Essential Books About Women's Health Into Your Reading Routine
Although you may not have considered reaching for one at the onset of an issue or when you have a feminine care question, books are a resource that goes hand in hand with women's health. Some highly educated and respected authors in the field have put together remarkable works that can impact your understanding and evolve the way you think about your health and wellness.
Reading is really the key to a lot of positives in your life. Self-help, entertainment, health and wellness, history, if there's a topic, there's a book about it.
Let's get into why reading is right for you, and then browse some suggestions for some excellent women's health-related reading.
Allow literature to enrich your life. Let's get reading!
Benefits of Reading
Escaping into a story provides incredible stress relief and entertainment. Books are also an excellent source of information that can improve your mindset and help you grow as a person.
Speaking of growing, one of the best ways to grow is through learning, and an excellent way to learn is through reading. Books are a readily available resource containing a wealth of information! 
When you read to learn it:
Improves your understanding of the world around you

Promotes Brain Health and even overall health

Improves your conversational skills and vocabulary

Helps you stay occupied with a productive task

Improves your creativity
You should never stop reading to learn, but you can gain many other positives from getting into a good read.
Overall, reading is an activity rooted in self-improvement, no matter what genre you read! Consider all the positives that come from regular reading habits:
Reduces stress

Helps you acquire more/new knowledge

Helps you become a better writer

Uses more of your right brain

Improves focus

Helps you become more empathetic

Gives you inspiration

Helps you understand the world better

Gives you new ideas for success
Whether you read to learn, get life advice, or just for entertainment, count on it as a way to improve yourself in a host of ways. Try to make reading a regular habit and watch for the benefits.  
We know the benefits and may even crave our chance to get into a great book, but it can be challenging with busy schedules and active lives to fit in time for reading, no matter how important we believe it is. You can take some small steps to try and make reading a regular part of your daily routine. Take a look at the list below and consider these strategies. You may see that it's only a matter of time before they expand into a regular reading habit!
Try:
Starting and ending your day with a short time reading

Add reading to your to-do lists or calendars

Set a reminder to get reading

Begin with a goal of a number of pages or a chapter 

Use it as a break from social media

Start with audiobooks
What About Women's Health
Can reading clue you into important topics and issues regarding women's health? Yes! Some dynamic authors have put together incredible works that delve into all things related to our bodies.
We'd like to encourage you to include some of these informative pieces in your reading routine. You're bound to enjoy some powerful takeaways and glean some very helpful information.

Here are five fabulous reads filled with feminine force!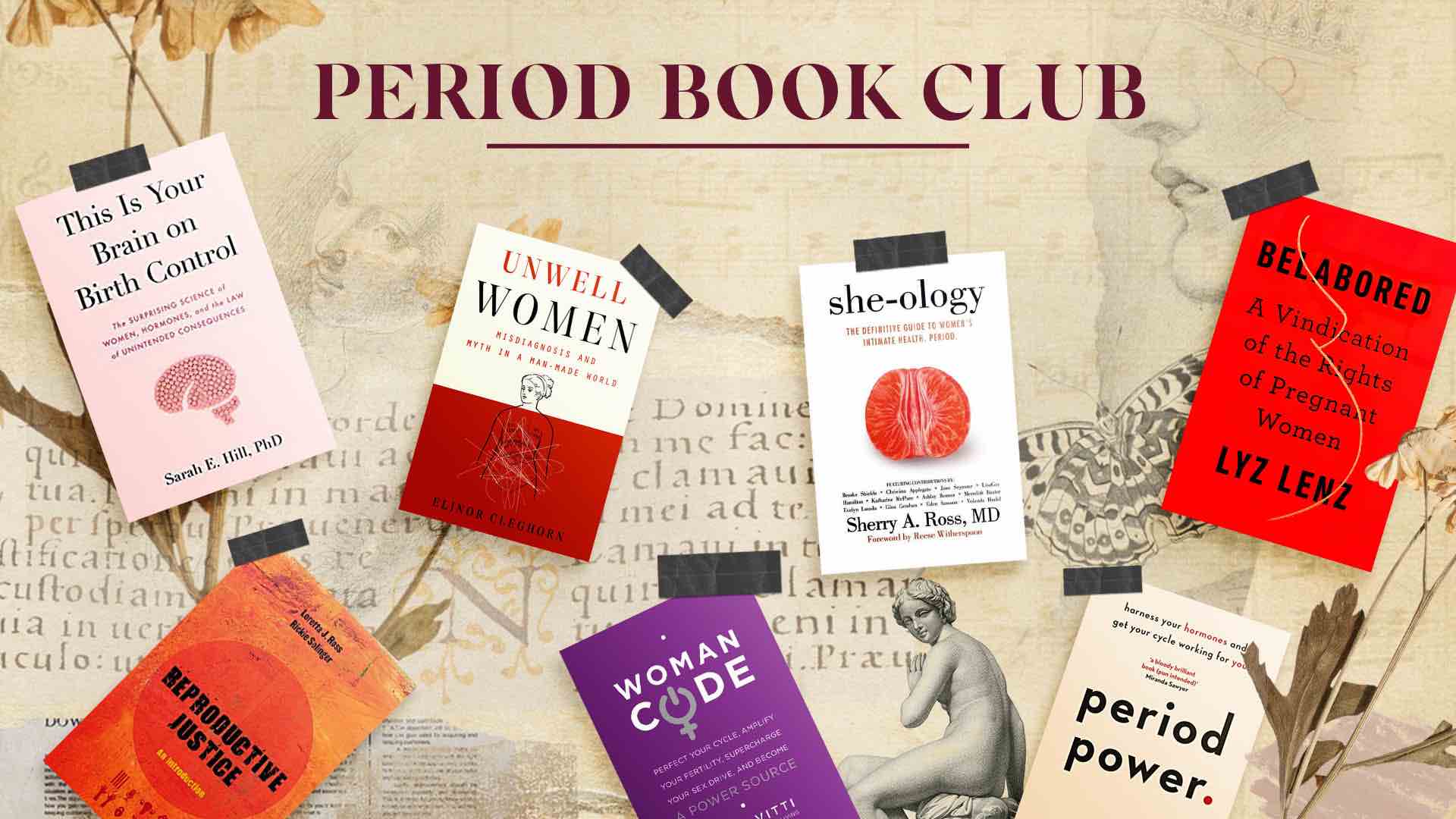 Unwell Women: Misdiagnosis and Myth in a Man-Made World
by Elanor Cleghorn
If women's health were turned into an epic, it would be in the form of Unwell Women. An all-encompassing history of women's health, from some of the earliest documented medical cases to modern-day, Unwell Women explores the tumultuous relationship between women and the medical industry.
Author Elanor Cleghorn speaks from her personal experience of being diagnosed as an "unwell woman" when she was told she had an autoimmune disease after years of being told her symptoms were psychosomatic. Her struggle was a catalyst for the compelling narrative of this book.
Praise for Unwell Women
"In Unwell Women, the British scholar Elinor Cleghorn makes the insidious impact of gender bias on women's health starkly and appallingly explicit…. It's impossible to read Unwell Women without grief, frustration, and a growing sense of righteous anger."
—Janice P. Nimura, The New York Times
"A deeply stirring book about women's illnesses…. Personal and impactful and brings to light the compelling need to do right by all the unwell women."
—Book Riot
Woman Code: Perfect Your Cycle, Amplify Your Fertility, Supercharge Your Sex Drive, and Become a Power Source
by Alisa Vitti
Alisa Vitti, holistic wellness coach and a long-time sufferer of PCOS, introduces women to a food-based, natural program for balancing hormones and maintaining good health.
Through her experience lessening her PCOS symptoms through natural methods, she became passionate about sharing her successes with others and promoting positive, holistic ways to take control of your health.
Her five-step protocol is highlighted and explained in the text. It includes:
Balance blood sugar

Lower cortisol levels

Enhance detox pathways

Replenish micronutrients

Get in sync with your cycle
Praise for Woman Code
"WomanCode is an extraordinary food-based prescription for your period, fertility, and lackluster sex drive. Vitti is breaking new ground by replacing our broken system of women's health with her novel approach. Doctors, prescribe Vitti's system to your patients!" 
— DR. SARA GOTTFRIED, OB/GYN, author of The Hormone Cure
"In WomanCode, Alisa Vitti connects the dots between our hormones, our cycles, our symptoms, and how we can all achieve the health and the body we deserve without harsh diets or impossible workouts. Women must learn how their insides determine their outsides." 
— ARY NUNEZ, Nike athlete and NFL trainer
Reproductive Justice, An Introduction
by Loretta J. Ross and Rickie Solinger
Analyze race, class, gender, and politics with two scholar-activists. The book truly intertwines women's human rights together with the social and political landscape surrounding the debate on reproductive rights.
The authors put real-life experiences at the center of their arguments and analysis, focusing on the complex social, economic, and physical struggles women face when making decisions about reproductive care.
Praise for Reproductive Justice
"Controlling reproduction and the bodies of women seems to be the first step in every hierarchy. That's why reproductive justice—women having power over our own bodies—is the crucial first step toward any democracy, any human rights, and any justice." 
—Gloria Steinem 
"…Their analysis of the reproductive justice framework is more urgent than ever. Essential reading for everyone interested in reproductive freedom, social justice, and human rights."
—Dorothy Roberts, author of Killing the Black Body: Race, Reproduction, and the Meaning of Liberty
Belabored: A Vindication of the Rights of Pregnant Women
by Lyz Lenz
The author challenges sexist assumptions and cultural norms that formulate our expectations for pregnancy and makes an urgent plea for unencumbered bodily autonomy.
Emotions range from laugh-out-loud snarky commentary to gut-wrenching tales of negative experiences tied to misogynistic views.
Praise for Belabored
"With wit and deadly seriousness, Lenz draws attention to the rising rate of maternal mortality in the U.S. and calls for an update to the way people view pregnancy in America."
―Time Magazine
She-ology: The Definitive Guide to Women's Intimate Health. Period.
by Dr. Sherry A. Ross
With the expertise that comes from 25 years of experience in obstetrics and gynecology, Ross addresses nearly every question that could be asked about vaginas, sex, health topics, and more. She encourages a healthy and happy life by gaining knowledge and feeling comfortable with our reproductive system and sexuality.
From discussions on first periods to what to expect during menopause, Dr. Ross presents honest, informative details about even the most taboo topics.
The book also includes a number of contributions from celebrities who have enjoyed the advice and guidance of Dr. Ross. 
Praise for She-ology
"She-ology reminded me that my V is as much a part of me as my heart and my brain and that it will stay a vibrant organ as long as the other two."  
―Vicki Iovine, Author, Attorney
"We cannot imagine our life without our daughters, and we are proud of the compassionate young women they are becoming. Also, we are happy to rely on the continued guidance of Dr. Sherry Ross—we can only hope she'll still be in practice when they're ready to have children!" 
― Kelly and Linda Novak, Mothers to Ava and Zoe Kelly and Linda Novak, Mothers to Ava and Zoe
Some other great selections we'd suggest:
This is Your Brain on Birth Control: The Surprising Science of Women, Hormones, and the Law of Unintended Consequences
by Sarah E. Hill PhD
Period Power: Harness Your Hormones and Get Your Cycle Working For You
by Maisie Hill
Read and Rely on Red Moon
If you need information and support, we've got you! At Red Moon, we strive to spread the message about the power of knowledge, the strength of empowerment, and the benefits of using safe and natural period products.
Join us in our quest to create educated, empowered, and healthy women.

____________
Alison Ferrell is the co-founder of Red Moon and has a passion for helping others discover peace and comfort amidst reproductive health issues. Alison draws on her deep empathy for those who've suffered from Endometriosis and reproductive illnesses as inspiration for her business. You can connect with her on Linkedin.

Resources:
Healthline.com
Penguin Random House
Barnes & Noble
University of California Press
Bookshop.org
drsherry.com